Vote Nov. 8, 2016. Voters are the real winners. Exercise your rights.
---
Your Comments Plan an outing this weekend to a farm/market. Plenty to choose from: Schemenauer Farm, Understory Farm and Orchard, True Blue Farms, Stokes Homestead Farm Market, Cleveland Farms, and DeGrandchamp's Blueberry Farm.
---
Your Comments Bloomingdale's annual Oktoberfest takes place Sept. 23-25, 2016. Come for the live music, beer tent, and fun for the whole family.
---
Your Comments Just liked this photo from Eagle Lake so much. Thanks Palmer Beach Association, Eagle Lake, Paw Paw, Michigan
---
The Lawton Downtown Development Authority invites residents to its meetings every third Wednesday, monthly, 7 pm, at the Village Council Chambers, 125 South Main. "Watch for further DDA projects and fundraisers in the future," the Lawton DDA said recently in the Courier-Leader. Go Local Lawton! Your Comments
---
Your Comments Visit the Myrtle Beach Film Festival at the Michigan Theatre in South Haven, MI Sep 21 to Sep 24, 2016.
---
Michigan Association Retired School Personel meets Sept. 20, 2016, 12 noon, at 490 S. Paw Paw St. in Lawrence.
---
Your Comments Love those apples! September 17 visit the Bangor Apple Festival.
---
Your Comments South Haven Garden Club's new member orientation happens Sept. 19, 2016, 6:30 pm at 903 S. Bailey. "A time for socializing and getting to understand the club better," they say. Any member is encouraged to come and not just new ones.
---
Your Comments Lawrence Ox Roast and Homecoming Labor Day weekend. "All weekend there will be: various booths to explore, food vendors, Lawrence Lions Club Bingo Tent, Lions Club Beer Tent, The Knightwinds Renaissance Group exhibition, kids free train rides, kids games, music performances at the Pavilion," says the Village.
---
Your Comments My old scrap for the Paw Paw Knights of Columbus scrap metal drive this month at 32373 Red Arrow. Call Dan 269-423-8545 if you need help with yours. Our 5.5 acres must hold many old "buried treasures" like this scrap since it was a farm many years ago.
---
Your Comments Dutch Sport Park Motocross in Bloomingdale is great family fun. Check it out.
---
It's too high. Van Buren County's unemployment rate for July, 2016 was 5.4% with a total labor force of 36,238 and total unemployed of 1,939. That makes us highest in southwest Michigan.
Are you underemployed and fighting? Read this.
---

Home and garden soil testing helps with fertilizer and lime requirements. Our test results, among other things, showed our soil at 71% sand, 17.3% silt and 11.5% clay. That sure explained all the sand I find. Contact the local MSU Extension in Paw Paw at 269-657-8213 for instructions and then get your soil test. You'll be glad you did.
---
Improve your archery skills at the Conservation Club's 3D Archery Shoot every Sunday in 2016, May through September, 8 am - 1 pm, at the Paw Paw Conservation Club, 56222 30th St., Paw Paw.
---
Your Comments Learn the story behind South Haven's fruit through Sept. 24, 2016 at Liberty Hyde Bailey Museum, 903 S. Bailey, South Haven At Bailey's new Horticulture Show, "Fruits of their Labors", the story of four pomologists and South Haven fruit.
---
Real Ghostbusters in Paw Paw? Look at The Strand Theater live Ghostbusters. "These guys showed up Saturday (I had no idea they were coming) and added a ton of fun to our night," say Casey and Amy. Hope they show up at tonight's show too.
---
Your Comments Free Internet help for county seniors with blogs, email, all social media like Facebook, web sites, payments, audio, video, photos, much more. Oct. 13, 2016, 1:00 p.m. at the Lawrence Senior Center, 119 N. Exchange.
Lawrence Seniors meet at 119 N. Exchange in the Village of Lawrence at 1:00 p.m. on the second and fourth Thursdays of each month. Pictured here, at their annual outdoor picnic on a beautiful July day in 2016, the group enjoys healthy servings of fresh, local vegetables along with passed dishes. At the twice monthly meetings the group typically spends time discussing announcements of interest to local seniors, socializing, singing several songs, and playing bingo. Seniors across the county are always welcome. Just drop in, take a seat and say hello!
---
Folks at the June 23, 2016 Wellness in the Park event in Paw Paw.
---
Local events, news, and people. Regional government. All around Van Buren County in southwest Michigan featuring these communities:
Bangor, Bloomingdale, Breedsville, Covert, Decatur, Gobles, Grand Junction, Hartford, Kendall, Lacota, Lawrence, Lawton, Mattawan, Paw Paw, South Haven.
---
Great Lakes & Great Websites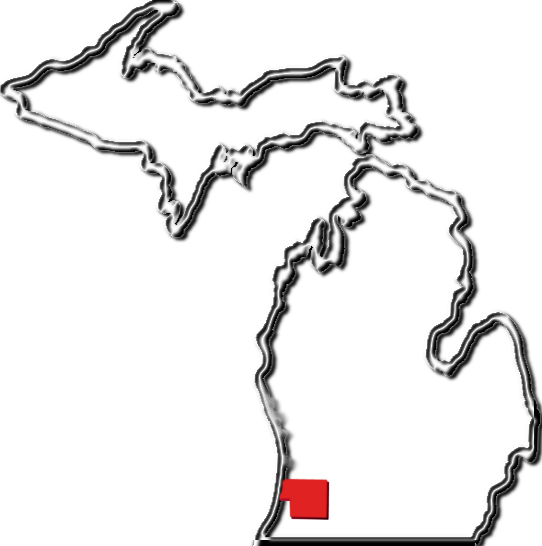 A few more of the great web sites of Southwest Michigan and around the Great Lakes.
---
Your Comments Oh no, gotta move the firewood I cut and everything else to make way for a new garage. Planning a garage is way more complicated than I imagined.
---
Amazing discovery in old record collection. Your Comments
Found this 1953 gem by Bill Haley while sorting out my in-laws old record collection. Read the story behind this find and see what you think.
---