Van Buren County in SW Michigan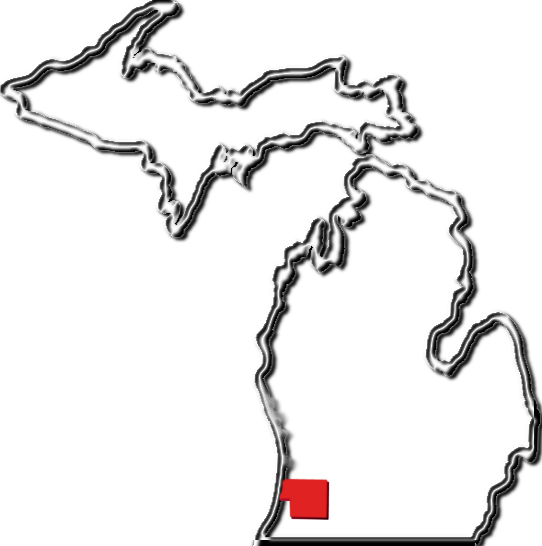 Bangor Bloomingdale Breedsville Covert Decatur Gobles Grand Junction Hartford Kendall Lacota Lawrence Lawton Mattawan Paw Paw South Haven
---
Two Rivers meets
Two Rivers Coalition hosts their Annual Meeting at the Lawrence Conference Center Dec. 13, 2017. Progress update: Paddle clearing for the new Paw Paw River Water Trail is a tough job -- OVER 50 MILES cleared this year.
Two Rivers Coalition works to protect clean water in the Paw Paw River and Black River watersheds. Above: Paw Paw River wandering through Lawrence.
---
Wow! Never expected
... to see these old 8mm family home movies again!
Got nearly 5,000 feet of film that was deteriorating badly with a sickly vinegar smell and went to work recovering it the best I could. Well I threw away an old Popeye cartoon (which I recall fondly) but otherwise I could salvage most of them. Some are curled. Most of the film seems OK though.
Will begin projecting them soon and then I'll know for sure.
Comment That's my Mom, Marion Williams, at the beach in 1966 by the way.
---
Video or pinball games?
Which are more popular?
I put this question to Kevin of Klassic Arcade in Gobles and he told me, "It depends on the crowd that day. Both get lots of play."
Klassic Arcade in Gobles has them all -- dozens of classic games from the 1970s through 2000s. Find them in Gobles and at klassicarcade.com.
Comment I don't know. I used up a lot of quarters and spent plenty of time playing Centipede in the 80's.
---
Busy Bangor rail line
Riding the rails this week? You're not alone. MDOT reports Amtrak's passenger train service is entering its busiest travel week of the year right now. Looking at you, Bangor, where the "Pere Marquette" line (they have names, see) stops daily on its way both to Chicago and to Grand Rapids. This train line running through Bangor increased its passenger service four percent in Amtrak's fiscal year 2017.
Get free rail travel tips now at the MDOT website but the easiest tip I can tell you is buy your tickets early because the price rises later.
This week exclusively Amtrak is adding an entire train to its "Pere Marquette" schedule because of the crush. Over the whole state they're moving every available spare railcar into service this week as well.
There's a few seats still open however. I know, I just now tried.
---
Attention plant geeks
I know projects sometimes get away from you. This might help. Or at least provide you with a little change of scenery.
---
On Phelps Street
Take a stroll with me up Phelps Street in charming Decatur.
---
Is crime on your mind?
Comment
Crime scene investigations, medical examiners, officer force, emergency response, drugs, courts ... even jail? If you've got crime on your mind then you'll want to read my story about the free Citizens Police Academy.
---
Crickets!
My Facebook video of the beautiful rural countryside was taken on CR 669 between Lawton and Decatur.
---
Making a Marine
New book
Now available at Walt and Marie's Country Market and Amazon.
What LegionTown.org says about this book by local writer Drew Cooper and his dad:
"Making a Marine in the 21st Century is the ultimate guide to Marine Corps Recruit Training. Aspiring new recruits, recruiters, parents, family members, loved ones and Marines of all generations will want to read this book. "
"This father and son journey sets forth what every new recruit will need to know; what everyone in the recruit's family will want to know about the Marine Corps Recruit Depot. This is a detailed account of what it takes to become a Marine in the 21st Century. This is a father and son story told through correspondence and heartfelt analysis of working to become a Marine. Here is the foresight on what to expect and the encouragement to complete the journey to become a United States Marine. "
"This is a wonderful account of the full experience of Marine Boot Camp as told through Lance Corporal Drew Cooper and his dad. Not only does a new recruit learn what to expect; but the entire family learns what is needed to endure as the Recruit works his way to becoming a Marine."
This book is available now at:
Walt and Marie's Country Market, 44947 Red Arrow Hwy., Paw Paw, across from Reits Flea Market, phone 269-254-9729, open 7 am to 5 pm Tuesday through Sunday.
And online at Amazon.
---
Fabulous stage beckons
"Freshwater Community Church has welcomed the Village Players with open arms and we are so looking forward to performing on that fabulous stage," the theater group announces. Congratulations Players! See them in 2017 at their new home at 600 E. Michigan in Paw Paw. And read important updates about their schedule at the Courier-Leader.
---
---
Seniors' winning ways
What can Van Buren seniors teach us about competing ... and winning? Because they just won the state-wide Senior Odyssey competition!
At Senior Odyssey a team solves a problem and then presents a skit about it. State coordinator Julie Lake told me the Van Buren team members are "pioneers" in this program.
Congratulations to Senior Odyssey 2017 first place winners Norm Bober, Jane Quigno, Antonette Meabon, and Rita Bober.
Comment Interested in participating next winter? Ask about Senior Odyssey at Senior Services of Van Buren County.
---
What were they thinking?
Comment
You won't believe the weird thing this Bangor charity does to get donations for their program.
---
Pets: Suffer no more
Unattended, suffering pets left alone in vehicles will now cost the driver how much money? says this new South Haven ordinance.
---
"I can only spend this much"
Comment Glen Thomsen of Thomsen Construction in Lawrence and I were having another wide-ranging discussion, this time about high expectations, when he pulled this cartoon from an old file. Click to enlarge it. Somewhere our dream building and reality have to reach a compromise. I told Glen I'd share it.
---
Bangor Community
Comment I talked to Fire Chief Derek Babcock about the Bangor Community Fire Department's charitable work.
Firefighting is dangerous and his team does an important job.
But the Fire Department also raises funds for charitable and civic endeavors like Relay for Life, Project Santa, Adopt-a-Family, Tragic firefighter incidents, Fireworks, Make-a-Wish, and so much more.
Watching the Recognition Photo Display tells me how much these men and women truly care about their community. See for yourself.
Recognition Photo Display presents Bangor Community Fire Department.
---
So how do they raise the money for their charitable work? Sponsoring the circus is one.
Aug. 26, 2017 Kelly Miller Circus. Save 25% buy tickets in advance at the Bangor Fire Station.
---
And your generous donation at the Pancake Breakfast is another.
Pancake Breakfast Labor Day Weekend at the Bangor Fire Station 417 W. Arlington, Bangor.
---
Follow the Bangor Community Fire Department at their Facebook or call (269) 427-8980 to learn how you too can donate to this valuable community resource.
---
About my website
Hi my name is Chuck Williams and I'm writing this new website about the county. What do you think? Send me your comments anytime at my Facebook,
,
, or mail:


All your likes and shares at facebook.com/aroundvanburen are very appreciated. Thanks!
---
In Lawrence. Contact me for date and time. Chuck Williams:
---
---
Do it yourself
Fix it or break it adventures
I'm not particularly good at do-it-yourself and I'll admit I've broken a few things in my day.
But I cleaned out my first carburetor to get my lawn mower running again.
So miracles do happen I guess. Comment
– Chuck Williams
---
---
---
---
---
---
---
---
---
Small-scale farmers meetup
video by Rhodes
"What do you have on your farm?" Justin Rhodes asks. Youngster pauses, thinks. "Pigs, corn ... sheep."
In Mattawan recently on his Great American Farm Tour, Rhodes is boosting small-scale farming. Watch the full video of the Mattawan meetup at his YouTube.
Comment So, tell us, what are you growing?
---
Don't dunk my pastor
Pastor Gary in cage
Journey Family Church in Gobles recently hosted their Family Night with rides, games and activities. Pastor Gary Napp said, "It was a great time for all!"
But Pastor Gary, Pastor Josh, and even Children's Director Pam spent time that summer evening confined in the dunk tank "three throws for a dollar."
Pastor Gary did tell me though, "The dunk tank felt good on a hot summer night!"
About 400 attended the July 25, 2017 early evening event in Gobles including 180 kids. Think about it: No children were turned away because they couldn't pay.
"This event is designed as an opportunity for families to come out and have some affordable fun together ... and for us as a church to be able to hang out with the awesome people of this community," Pastor Gary explained.
Visit the church for Sunday 10:30 am worship at 313 Depot St. and contact them at 269-628-2288, journeyfamilychurch.com, or at their Facebook.
---